When we say we're more than an egg it's not hyperbole.  We know that marketing anything can make way for lots of jargon and superlatives, and while we're not opposed to marketing, we're not fans of making something seem more than it actually is.  Our slogan at first glance "More Than An Egg" might initially come off like that, but when you break it down it's evident that the story of the eggs we produce is greater than the sum of its parts.
Take for instance our founder, Eldon T. Miller.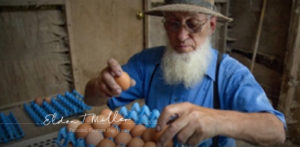 When Eldon founded Farmers Hen House, he did so not simply to produce the best eggs, but to help his community of farmers make a life for themselves.  It just so happened that helping his local farmers resulted in the best eggs!  See, the Amish and Mennonite farmers in the community were already producing organic eggs, but they didn't know how to become certified organic, and market their eggs for retail.  Eldon helped them do that, and in doing so, created a market for specialty eggs that began with one retailer and 3 farms and over the course of 20 years, grew to over 50 farms and hundreds of retailers.  It's incredible what pursuing a positive impact for your community will bring!
When we say we're more than an egg we mean it in 4 main ways:
The way we care for the hens.

The way we support our farmers.

The way we steward the environment.

The way we give back.
1. The way we care for the hens is second to none.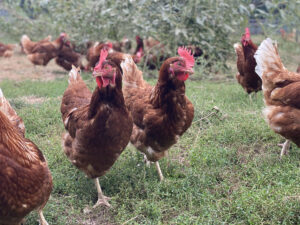 Our hens are an extension of our families.  While they may not receive the exact same treatment as our children, it's not far from it.  We want them to have the best life they possibly can have, which is why we are Certified Humane.  We undergo a rigorous certification process to meet numerous standards that verify that our hens are living their best life.  As rigorous as the certification process might be, the good life that we provide for our hens comes naturally to us.  That's because we have been farming humanely for generations.  It's a way of life for us.
We pride ourselves not just on meeting standards, but on going above and beyond to ensure that you are getting exactly what you are being told.
We go above and beyond in ensuring our hens are living better than anyone else's, because it's just who we are.  Who we've always been.  It's in our DNA, and it's a legacy that we strive to continue to past down from one generation to the next.  Our hens have been enjoying the outdoors long before the terms Free-Range and Pasture-Raised were ever in existence.  From the beginning we've known that when the the hens flourish everyone flourishes.
2. The way we support our farmers is second to none.
Our farmers are the reason why we exist (hence the name).  Farmers Hen House began with the mission to provide local Amish and Mennonite farmers with a sustainable way to get their organic eggs into retail spaces.  For most Amish and Mennonite farmers, envisioning a life without farming is hard, if not impossible to do.
Since all of our farmers have generational farms, they have the responsibility of carrying on the legacies that have been cultivated in the land generations before them.
Farmers Hen House provides a way for local small family farms to make a sustainable way of life for their families, and, simultaneously, provide a specialty ethical egg to the consumer that was second to none.  Since the beginning, Farmers Hen House has worked hard to help Amish/Mennonite farms continue to flourish and connect them to the wider market. 
3. The way we steward the environment is second to none.
Our environment is of the highest priority.  That is why we are committed to keeping our carbon footprint low, and why we have the only 100 percent solar-powered egg processing plant in the country.
We believe that what we put into the environment is what we get out of it…
and for us, as farmers who depend upon a healthy and stable environment for our livelihood, caring for the environment is caring for us, our families, our hens, our eggs, and for our customers.  That too is why we protect our soil with sustainable and organic farming practices.  Additionally, many of our farmers grow their own grain for the hens on their farms. This provides a closed loop of production on a farm, meaning the farmer grows the crops, feeds the grain to the hens, then spreads the manure produced back on the fields, which provides the next round of grain. This keeps the entire cycle on the farm without having to move around grain and pull in products from non-local sources.
4. The way we help our local community is second to none.
Our community is the heart of why we do, what we do, the way we do it.  That is why we care for hens, the farmers, and our environment with the greatest attention to detail.  It's also why we have given away over millions of eggs and dollars to food banks and charities in Iowa and throughout the world.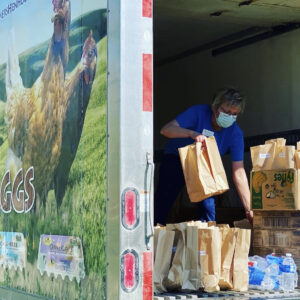 As you can see, there's more to our eggs than meets the eye.
When you pick a carton of Farmers Hen House eggs, you're not only purchasing eggs that taste good, but also do good for the hens, farmers, environment, and community… Not to mention you!