The froth from an egg white cocktail might seem like the result of a perfected technique from a seasoned bartender, but creating frothy silky egg whites to rest atop your delicious cocktails are easy and fun.  They're also safe!  Eggs today are inspected throughly from laying to processing, and rarely have issues of contamination.  From the late 19th century, egg whites have been ubiquitous in cocktail creations.  From the Pisco Sour to the Gin Fizz, frothy egg whites help set these classic cocktails apart.
Achieving the frothy top is called a "dry shake."   This process happens when the cocktail ingredients from one shaker and the egg white from another are joined together and shaken quickly, without ice, in order to emulsify. Make sure not to let any citrus juice rest with the egg white, or otherwise it will be prone to cook from the citrus acid.
When shaken, the cocktail will sound deadened in the shaker from the air that's captured.  The cocktail can then be shaken with ice to chill before being strained into a glass.  To help you ring in the New Year, we've provided two original egg white cocktails from the Hen House.  Happy New Year!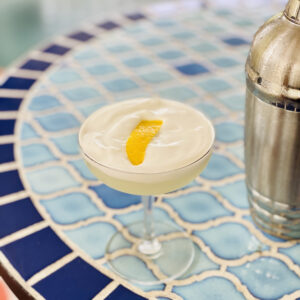 Ingredients:
1.5 ounces of gin
0.5 ounce of limoncello
1 egg white
3/4 cup of soda water
1/2 squeezed lemon
2 dashes of grapefruit or citrus bitters
1 cut lemon peel for garnish
Directions:
Step 1
Pour ice, gin, limoncello, soda water, egg white, lemon juice, and bitters in shaker.
Step 2
Shake vigorously.
Step 3
Pour into glass and place lemon peel for garnish.
Ingredients:
Farmers Hen House egg whites
2 oz Mezcal Joven (can substitute for a tequila joven)
1 oz orange liquor (Cointreau or similar)
1 fresh squeezed grapefruit
4 dashes of orange bitters
1 oz of simple syrup
Directions:
Step 1
Combine all of the ingredients over ice.
Step 2
Shake vigorously for 30 seconds.
Step 3
Top with a lemon peel and orange zest.