With Easter coming up we thought we'd share with you a few of our best Easter brunch recipes that might help contribute to the joy of the holiday and guests!  Each of these recipes are quick and easy to make, healthy, and delicious!  Additionally, they are or can easily be gluten-free and keto friendly.
Crusty Hashbrown Quiche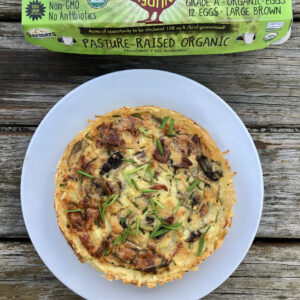 A good crust is key to any great quiche, and a hash brown crust is just that!  Pasture-raised eggs, oyster mushrooms, bacon, and white cheddar cheese also don't hurt to make this quiche great!
Ingredients
Hash Brown Crust
20 ounces frozen hash browns thawed
½ cup white cheddar shredded
½ teaspoon salt
¼ teaspoon cracked black pepper
Filing
2 tbs unsalted butter
½ onion thinly sliced
6 large Farmers Hen House eggs lightly beaten
½ cup heavy cream or whole milk
4 slices bacon crispy cooked and crumbled
8 oz mushrooms, cooked and drained of as much water as possible.
1 cup white cheddar cheese shredded
1 tbs chives thinly sliced, plus more for garnish
Salt and pepper to taste
Directions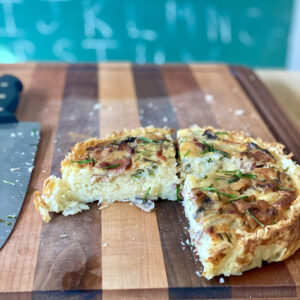 Step 1
Squeeze as much liquid from the thawed hash browns as possible and place into a large mixing bowl.  Add cheddar, salt and pepper and stir together.
Step 2
Lightly grease a 9" spring form pan with cooking spray and evenly press the hash browns mixture into the bottom and sides of the pan, making sure you don't have any holes within the crust (this is important to prevent any leakage).
Step 3
Place the pan in the freezer and freeze for at least 1 hour.
Step 4
Preheat oven to 425˚F.
Step 5
Place frozen crust until the oven and par-bake for 15 minutes. Remove from oven and slightly cool.
Step 6
In a skillet melt butter over medium heat.  Add onions and lightly caramelize for 10 to 15 minutes.  Season with salt and pepper.  Set aside.
Step 7
In a large mixing bowl, combine eggs and cream.  Whisk together until light and fluffy.  Add remaining ingredients, including caramelized onions and stir together until mixed up.  Season with salt and pepper.
Step 8
Pour filling mixture into the par-baked crust and place into the oven.
Step 9
Lower oven temperature to 375˚F and bake the quiche for 25 to 30 minutes or until the eggs have just set.
Step 10
Remove quiche from oven and score the perimeter with a paring knife.  Loosen springform pan from sides of quiche and place quiche back into the oven for an additional 10 to 15 minutes (this will help the crust get crisp on the sides).
Step 11
Remove quiche from the oven and cool for 10 minutes.
Waffelettes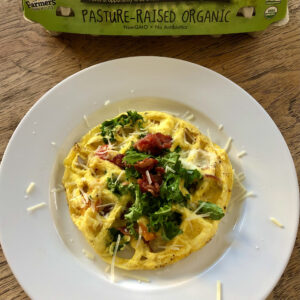 Whether you call it a wafflette or wamlette, one thing that can be agreed upon is that the trend of cooking omelettes in waffle makers is here to stay!  The process is quick, easy, and most importantly, delicious!  With our eggs as the foundation, you can play jazz with any fresh ingredients and create delicious custom wafflettes/wamlettes for yourself, as well as friends and family!
Ingredients
2 farmers hen house eggs plus 1 white
2 tbsp milk
2 tbsp cooked bacon
2 tbsp shredded parmesan
2 tbsp chopped tomatoes
2 tbsp chopped kale
1/2 tsp salt
1/4 tsp pepper
Cooking oil spray
Directions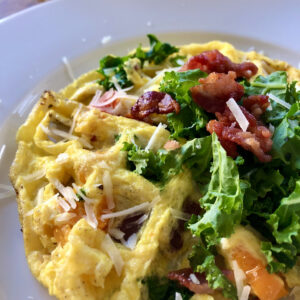 Step 1
Heat a non-stick waffle maker sprayed with cooking oil.
Step 2
Whisk eggs and milk together.
Step 3
Add all ingredients except cooking spray.
Step 4
Pour in waffle maker and cook for 1-3 minutes depending on heat (check after one minute).
Step 5
Remove, add toppings and serve!
Breakfast Cornbread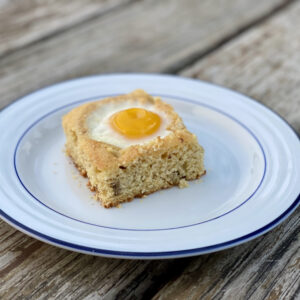 We're calling this Farmers' Breakfast Cornbread recipe.  Featuring either our Organic Free Range, Free Range, or Organic Pasture Raised eggs, your favorite boxed cornbread (or homemade if you prefer), sausage, and peppers to garnish!
Ingredients
1 box of your favorite cornbread mix (or make your own if you are ambitious!)
8 oz of crumbled andouille or spicy Italian sausage
5 Farmers Hen House eggs
1/2 cup diced green onion
1/2 cup diced green and red pepper for garnish
Directions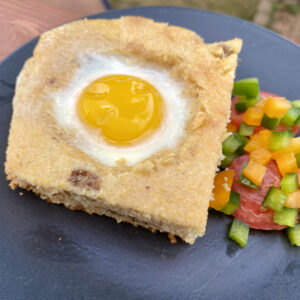 Step 1
Sauté sausage over medium head until browned; remove from heat and pat with paper towel to soak up excess oil.
Step 2
Follow package instructions to make cornbread batter.
Step 3
Add sausage and green onion to corn bread batter.
Step 4
Bake at 375 degrees for 20 minutes.
Step 5
Remove cornbread from oven and use small round cutter or spoon to cut out 5 circle rounds.
Step 6
Place one egg in each of the 5 holes.
Step 7
Cover with foil and bake at 350 for 10 minutes or until eggs are set.
Eggs Benedict Cups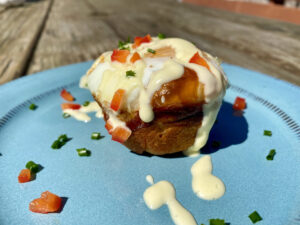 These Eggs Benedict Muffin Cups are brimming with the taste of the Easter holiday.  Farmers Hen House eggs, crispy bacon, fluffy biscuits, savory hollandaise sauce, chive and red pepper, it's as Easter as flavors get.
Ingredients
Eggs Muffin Cups
Nonstick cooking spray, for muffin tin
6 small refrigerated biscuits (from tube)
6 slices of bacon diced and cooked until crisp
12 large eggs, room temperature
Kosher salt and freshly ground black pepper
Hollandaise Sauce
3 Farmers Hen House egg yolks
3 tsp rice wine vinegar or other white vinegar
1 ½ pinches cayenne pepper
2 ¼ sticks unsalted butter
½ tsp kosher salt
Chopped chives and red bell pepper for garnish
Directions
Egg Muffin Cups
Step 1
Preheat the oven to 350ºF. Spray a 12-cup nonstick muffin tin very generously with nonstick spray.
Step 2
Cut each biscuit in half horizontally and press out into a 4- to 5-inch circle. Firmly press the circles into the bottom and up the sides the muffin cups.
Step 3
Reserve a handful of bacon for garnish and divide the rest among the muffin cups. Top each cup with an egg, and sprinkle with salt and pepper. Bake until the eggs are just set, 15 to 20 minutes.
Hollandaise Sauce
Step 1
Put the egg yolks, vinegar and cayenne in a blender. Pulse a few times to combine.
Step 2
Put the butter in a microwave-safe bowl or liquid measuring cup and microwave until just melted.
Step 3
With the blender running, gradually add the melted butter to make a smooth sauce. If the sauce seems too thick, add about 1 teaspoon warm water to loosen it. Season with salt.
Step 4
To serve: Run a thin knife around the edge of each muffin cup and gently pop out the eggs Benedict onto a cutting board.  Serve immediately, topped with the Hollandaise and sprinkled bacon pieces, chives and red bell pepper for crunch.
Pumpkin Bourbon Souffle
This pumpkin bourbon breakfast soufflé featuring our organic pasture-raised eggs (although you could use any of our eggs!) is perfect for brunch no matter what the season!
Ingredients
6 Farmers Hen House eggs
1 tsp pumpkin spice
1 tsp vanilla extract
3 tbsp maple syrup
2 tbsp of honey
1 tbsp of bourbon
3/4 cup pumpkin purée (not filling)
Preferred cooking oil for greasing the pan
Dusting of confectioners' sugar
Directions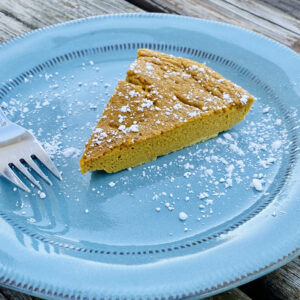 Step 1
Preheat oven to 350 and grease a 9-inch pie pan with oil using a pastry brush or a paper towel to apply.
Step 2
Combine the eggs, pumpkin puree, pumpkin spice, vanilla, bourbon, honey, and maple syrup in a blender or food processor. Run until mixture is smooth and even consistency.
Step 3
Pour mixture into the prepared pie pan. Bake 30-35 minutes or until eggs are set and the top and edges are lightly golden brown.
Step 4
Let cool for 5 minutes and dust with confectioners' sugar.